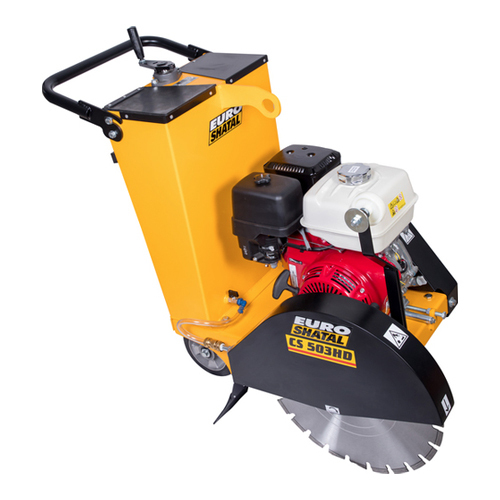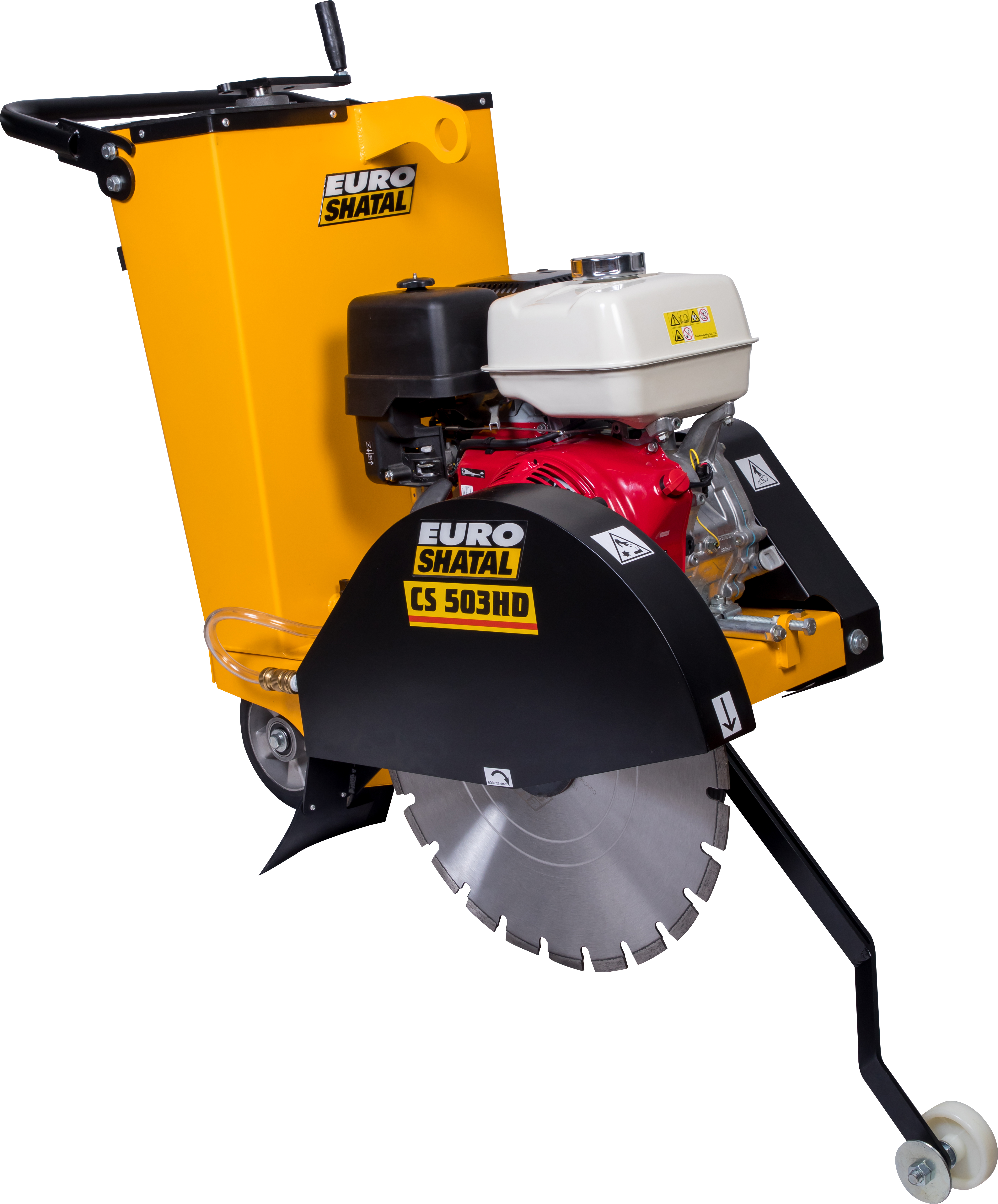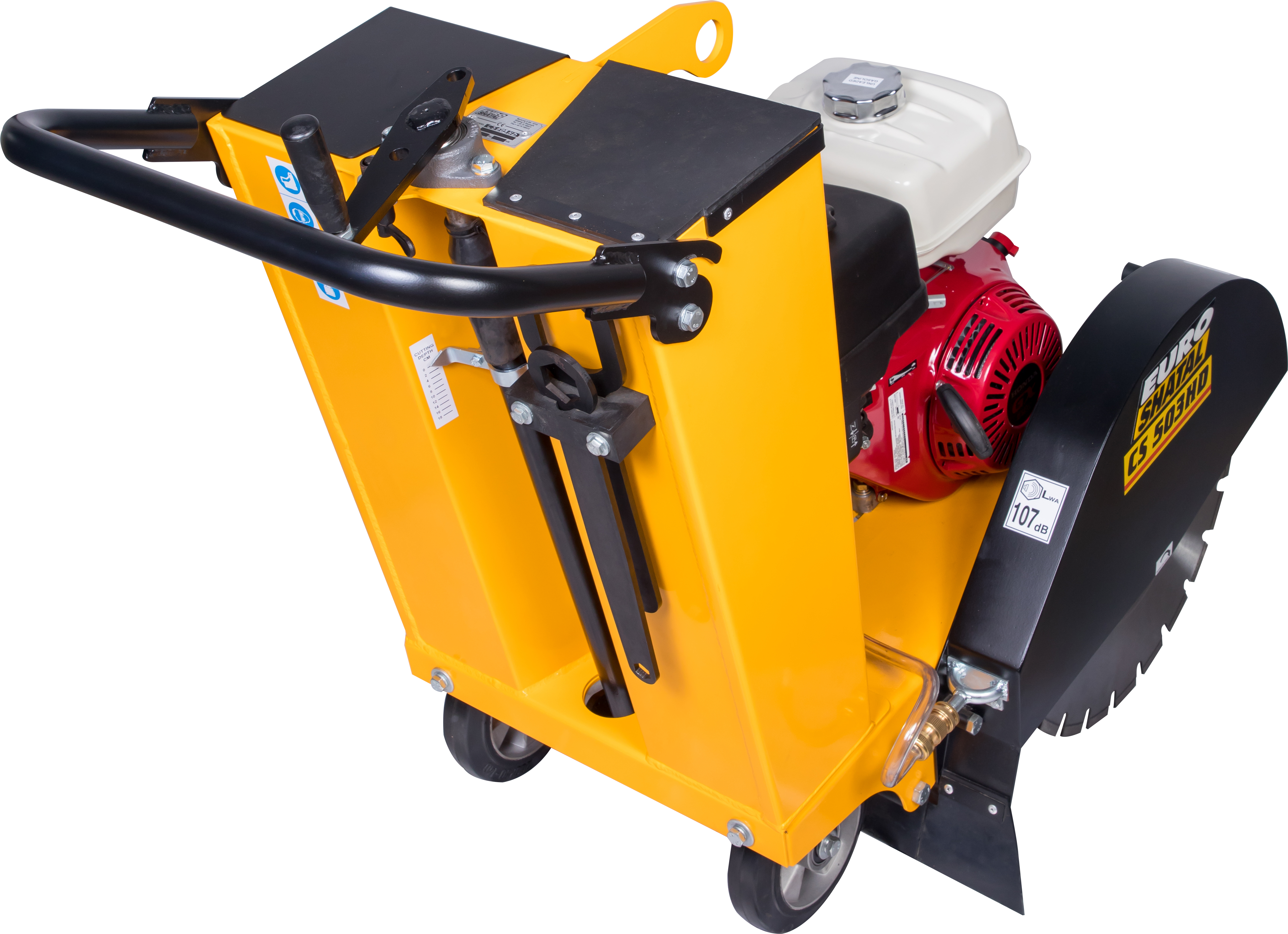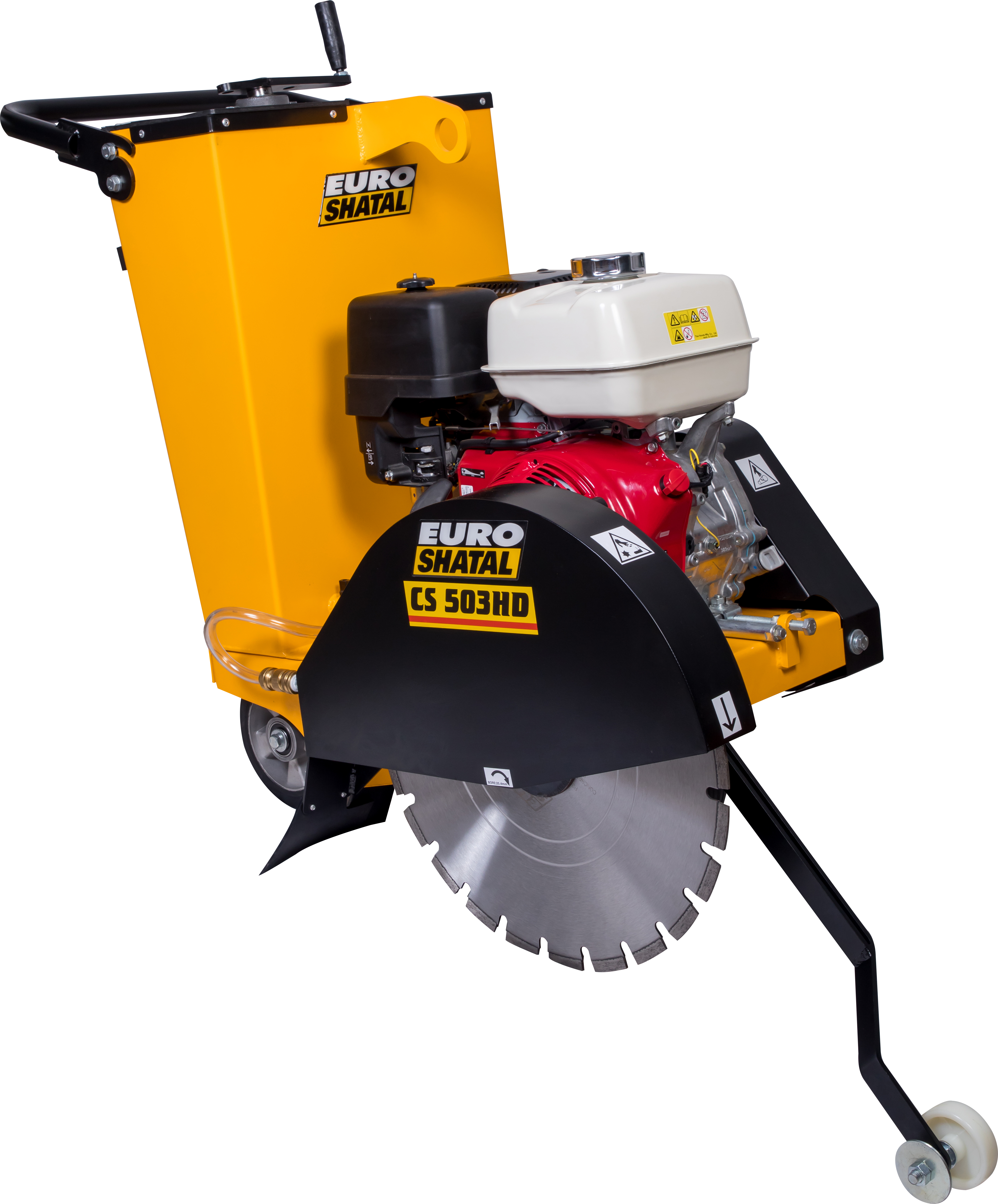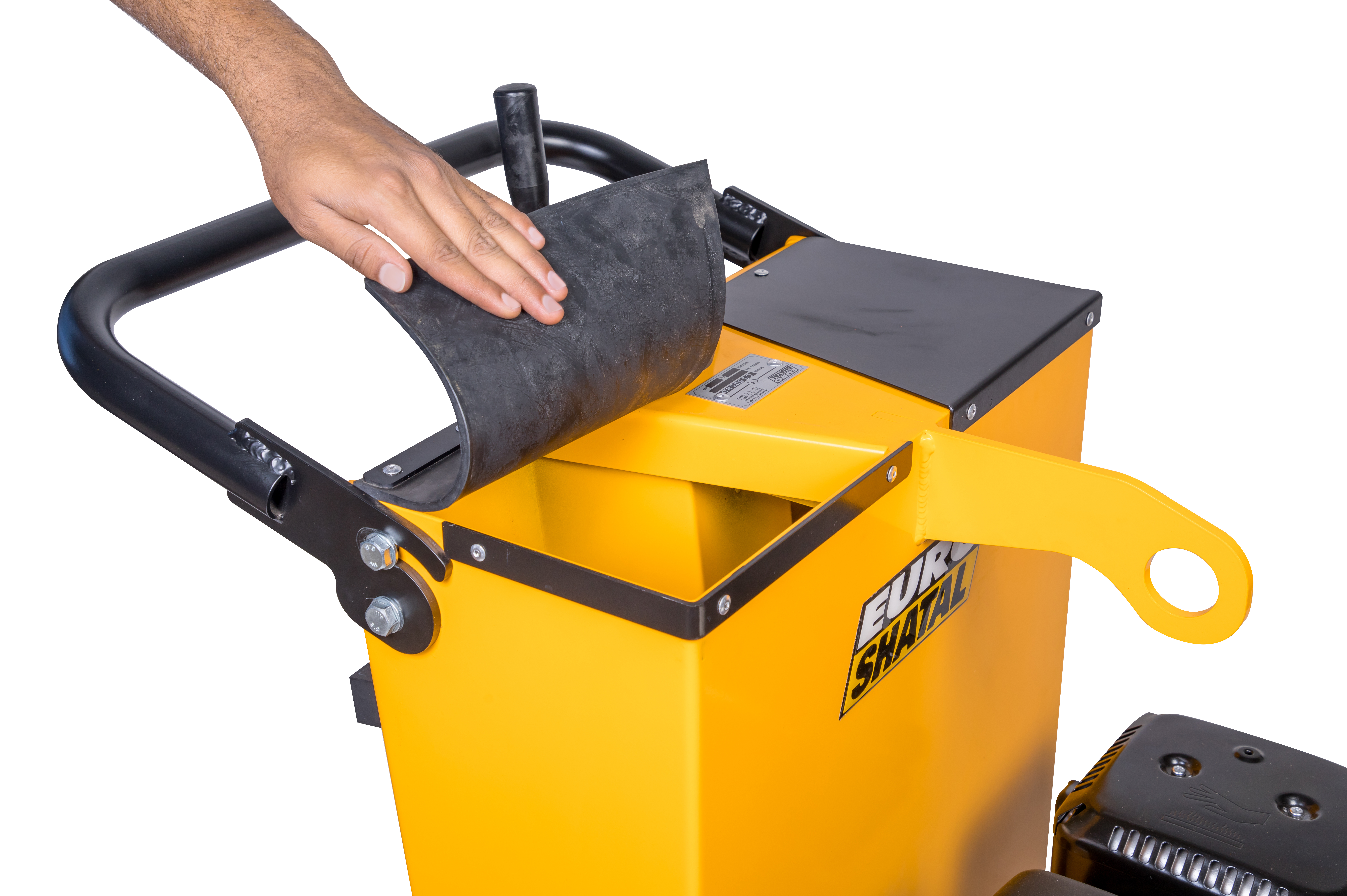 Product Description
Concrete and Asphalt Saws - CS503HD
Being a client centric organization, we are passionately engaged as manufacturer, exporter and supplier of Asphalt Saws. Our offered range is a complete package that efficiently satisfy all the needs of our clients related to an engine. Owing to its exclusive features like superior functionality,fuel friendly, compact design, the offered range of Asphalt Saws enormously used in automobiles. It has extensive application in almost every vehicle we watch running on road today.

Features:
Fuel friendly
Compact design
High water tank capacity
Long service life
Description :

Cat No : M32100.H
13HP Honda gasoline engine w/oil sensor & 40 liter built-in water tank.
weight: 134 kg
blade capacity: 350- 500 mm
depth of cut: 100-185 mm
Cat No : M32100.S
10 HP 380V electric motor & 40 liter built-in water tank.
weight: 130 kg
blade capacity: 500 mm
depth of cut: 185 mm
Operating Instructions & Spare Parts List Concrete And Asphalt Saws
CE DECLARATION OF CONFORMITY
We hereby declare that the equipment described below conforms to the relevant fundamental safety and health requirements of the appropriate CE Directives, both in its basic design and construction. This declaration will cease to be valid if any modifications are made to the machine without our expressed approval.
Product: Concrete and Asphalt saws : CS 502HD

| | |
| --- | --- |
| Measured sound power level | Guaranteed sound power level |
| 106 dB(A) | 107 dB(A) |
Conformity assessment procedure acc. to 2000/14/EC, Appendix V.
Relevant CE Machinery Safety Directives : 2006/42/EC, 2000/14/EC, 2005/88/EC, 2004/108/EC, EN 55012:2007
Appropriate internal measures have been taken to ensure that series-production units conform at all times to the requirements of current CE Directives and relevant standards.
The signatories are empowered to represent and act on behalf of the company's management.
Safety Instruction
Laws governing safety aspects on machinery may vary between countries but the following guides will useful to all operators:
Before starting, carefully read the machine maintenance and operating manual and follow all the instructions.
Use unleaded fuel only, for gasoline engines.
Never operate the machine without the belt and blade guard.
Keep hand and feet away from moving parts while the machine is running.
Do not operate the machine in closed places and inflammable environment.
Operating the machine is advisable only with good lighting conditions.
Hearing protection must be worn.
Foot protection must be worn.
Do not touch hot surfaces.
Technical Specification :

MODELS
Cat. No.

CS502HD HONDA GASOLINE M32100.H

CS502HD HONDA GASOLINE CYCLONE M32100.I

CS502HD ROBIN GASOLINE M32100.G

CS502HD ROBIN DIESEL M32100.JS

CS502H ELECTRIC M32100.S

Weight kg.

135

135

135

155

130

Power transmission

Keilreime

Max. Diameter of blade mm

500

Min. Diameter of blade mm

350

Bore mm

25.4

Max. Cutting depth mm

185

Disc's circumferential speed
350 m/s
500 m/s
(at engine's nominal speed)


45
64

No-load revolutions of disc1/min
(at engine's nominal speed)

2097

Water tank capacity Litres

40

Drive motor
Model

Honda GX390 Recoil start

Honda GX-390 Recoil start

Robin EH41D Recoil start

Robin DY41 Electric starte

Soga Electric

Output - HP

13

13

13.5

8.5

10

Engine speed - rpm

3600

3600

3600

3600

2870

Fuel tank - litres

6.5

6.5

7

6.5

--

Engine oil - litres
SAE 15W/40

1.1

1.1

1.2

1.1

---

Air cleaner

Dry type

Cyclone
air-filter

Dry Type

Dry Type

---

Noise And Vibrations

Sound power level according to ISO 5349 (*)

Measured sound power level LwA=dB(A)

106

106

106

109

95

Vibration values a=m/s2

The hand - arm vibration values according to ISO 5349

2.98

2.98

2.98

2.98

2.98
The above noise level and vibration values were determined at normal speed of the engine. During operation these values may differ because of the actual operational conditions.
Transport to Work Site :
Only use suitable lifting equipment with a minimum lifting capacity of 200 kg for the transport of the floor saw.
Always switch off motor during transport
Empty the water tank.
Attach appropriate secure lifting devices to the central lifting point (A) provided for this purpose.
Remove the cutting disc and place the floor saw in the highest possible cutting position before transporting the machine.
Fold the handle down.
Operation:
ENGINE CHECK BEFORE STARTING
Fill fuel tank.
Check oil level in engine crankcase and top up necessary type of oil according to manufacturer's instructions.
Fill up the water tank.
Before starting the engine, make sure that the blade is not touching the ground.
To rise the blade, turn handle C clockwise.
Operation Mechanism :

Run the engine at idle speed for a few minutes.
Move the throttle to maximum engine speed
Make sure that the blade is not vibrating by visual inspection.
Open water tap.
Lower the blade into the floor by slowly turning handle C anti-clockwise.
When blade reaches to required depth (as indicated on depth gauge) lock handle C by knob D.
Please Pay Attention To The Following :
Long engine life, less blade wear and best cutting results is achieved by keeping steady engine speed (RPM) while cutting.
Do not allow the blade to be lowered down below the concrete or asphalt into the sand. This will result in a higher wear rate of the blade.
When the cutting is finished, raise the blade from the floor.
Allow the engine to idle for 2-3 minutes and then switch it off.

Important Advice :
The manufacturer declines all responsibility for loss or damage resulting from misuse or any modification or alteration that does not conform to the manufacturer's original specifications.
At the workstation, the sound pressure level may exceed 85 db (A). In this case individual protection measures must be taken
Spare Parts Ordering :
When ordering spare parts, please mention machine serial no., part no. and description.
Scrapping :
In the event of deterioration and scrapping of the machine, the following items must be disposed of in accordance with the requirements of the legislation in force.
Main Materials:
Engine : Aluminium (AL), Steel (AC), Copper (CU), Polyamide (PA)
Machine : Steel sheet (AC)
The instructions for use and spare parts found in this document are for information only and are not binding. As part of our product quality improvement policy, we reserve the right to make any and all technical modifications without prior notice.
Maintenance Schedule :
Check all external screw connections for tight fit approx. 8 hours after first operation.

Parts

Maintenance

Maintenance interval

Air filter
Engine oil
Other parts

Check for external damage and tight fit.
Check foam and filter insert clean or replace if necessary.
Check oil level, top up if necessary.
Check cutting disc for damages and correct tightenning - change and or adjust if necessary.
Pay attention to the directional arrow on the disc

daily

Belts

Check tension and wear - replace if necessary.

Weekly

Engine

See engine manufacturers handbook



Maintenance :
Monthly maintenance :
Perform maintenance work on engine according manufacturer's instructions.
Check belt tightness and tighten if necessary.
Belts should be move 10 -15 mm when pushed by the thumb.
Grease blade shaft bearings.
Check and retighten bolts and nuts.
CS502HD (ELECTRIC) Safety Instruction :
Users should carefully follow any operating instructions given.
Never operate the machine without the belt and blade guard.
Never operate the machine if there is any abnormal vibrations.
Keep hand and feet away from moving parts while the machine is running.
Before use always fill the water container with clean water.
Do not use the machine without cooling water on the blade.
Ensure that the power supply is connected to an earth leakage circuit breaker.
Danger of electrocution or severe electrical shock is present in the trowel motor any time the saw is plugged in.
Read all safety information contained in this section before operating or servicing this equipment.
No one except a trained electrician should perform repairs to the motor and switches.
NEVER allow anyone to operate this equipment without proper training.
NEVER leave the machine running unattended.
NEVER operate the saw with damaged or worn electrical cord!
When using an extension cord be sure to use one heavy enough to carry the current load.
DO NOT operate electrical devices in rain or snow.
Keep motors, switch and electrical cords dry.
DO NOT plug in the saw with the motor cover, or terminal box cover removed.
NEVER allow machine to cut or become entangled in the power cord.
ALWAYS make sure motor switch is in "STOP" position before plugging trowel to power in the machine.
ALWAYS check the power supply before running the saw. Using the wrong voltage supply will damage the moto
DO NOT attempt to clean or service the saw while it is plugged in to the power supply.
DO NOT wash the saw with electrical covers removed.
DO NOT use a high pressure washer to clean electrical equipment.
Only operate the machine with a fully earthed-plug, do not operate the machine in case of doubt.
Do not operate the machine in closed places and inflammable environments.
Operate the machine only with good lighting conditions.
Do not touch hot surfaces.
Store in a dry place, not accessible to children. Maintain the tools carefully.
Starting The Electric Motor :
Move switch A on the left side to position 1.
Move switch B on the right side to "star" and then immediately switch off.
Check direction of rotation of the disc so that it is in the direction of the arrow on the blade guard.
If incorrect move the left side switch A to position 2.
Move the switch B on the right hand side to "star" position.
After motor gets to speed move the switch B to the "delta" position.
Instructions For Ordering :
Please State Machine Details in the Following Sequence:
Machine Serial Number
Part Number, Description and Quantity of Parts
Full Delivery Address
Manufacturers Liability and the Use of Genuine Spare Parts
Liability for this machine is accepted only when the machine is defective from the outset. Liability is reduced or nullified in the event that the user fails to comply with the operating and maintenance instructions and uses spare parts which are not guaranteed.

Enter Buying Requirement Details