Send Inquiry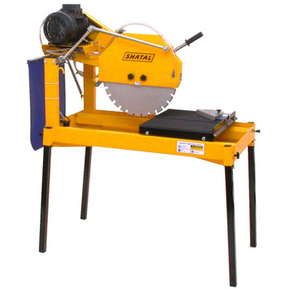 Product Description
Masonry Saws - B3500
We are renowned to be the best manufacturer, suppliers and exporter of an exclusive range of 5.5hp Honda Gasoline Engine from Tamil Nadu, India.The offered product is extensively demanded in various industries owing to its exclusive features like lower vibration, less noise levels, light weight and compact structure. The offered range of 5.5hp Honda Gasoline Engine is manufactured using the best quality components and modern machinery. These gasoline engine can generate power by burning fuel with ignition initiated by anelectric spark.
Features:
Auto decompressing makes starting easy
Low fuel consumption and noise
Oil alert automatically shut off the engine
Auto decompressing makes easy starting
Cat No : M31300.C
5.5 HP Honda gasoline engine with oil sensor, flexible shaft driven self-priming water pump, incl. Detachable legs.
Max. Cutting length 560mm.
Weight: 129 kg
Blade capacity: 350 mm
Depth of cut: 235 mm
PREFACE TO THE MANUAL
Before leaving our factory every machine passes an exacting inspection programme.
Following the instructions will ensure that your machine gives long service, in normal operating conditions.
The user advice and spare parts mentioned in this document are given as an indication, and do not constitute an undertaking. No warrantee will be granted in the event of errors or omissions, or for damage occurring during delivery, or caused by the design or use of the machine. We are very concerned about the quality of our products and we reserve the right to make any technical modifications to improve them, without advance notice.
This document will:
Provide the user with information about the machine.
Information about its possible uses.
Prevent accidents due to unsuitable use, by an untrained person, during maintenance, repairs, overhauls, handling or transport.
Improve the reliability and durability of the machine.
Ensure correct use, regular maintenance, and fast fault finding in order to reduce repair costs and down time.
The manual should always be available at working site.
It should be read and used by any person installing or using the machine.
The obligatory technical regulations in force in the country where the machine is used must also be adhered to for maximum safety.
Safety Instructions
Before starting, carefully read the engine maintenance and operating manual and follow all the instructions.
Never operate the machine without the belt guard.
Keep hand and feet away from moving parts while the machine is running.
Do not operate the machine in closed places and inflammable environments.
Use unleaded fuel only.
Stop the engine before refilling the fuel tank. Never refuel near a naked flame or sparks which could start a fire.
Don't smoke. Use only pure fuel and clean filling equipment. Take care not spill fuel.
Do not run the engine in a closed or badly ventilated room-danger of poisoning!
Before starting the engine, ensure that no one is in the danger area close to the engine or equipment, and that all protective guards are fitted.
Operating the machine is advisable only with good lighting conditions.
Hearing protection must be worn.
Foot protection must be worn.
Do not touch hot surfaces.
Never allow anyone to operate this equipment without proper training.
Before use always fill the water container with clean water.
Do not use the machine without cooling on the blade.
This machinery may only be used under frost-free conditions.
Never leave machine running unattended.
Never operate the machine if there is abnormal vibration.
Always use a disc suitable for the type of material being cut.
Always ensure that the machine is standing in a level position on a firm base.
Always close fuel valve on engines equipped with one when machine is not being operated.
Always store equipment properly when it is not being used.
Equipment should be stored in a clean, dry location out of the reach of children.
Do not attempt to clean or service the machine while it is running.
Do not use gasoline or other types of fuels or flammable solvents to clean parts, especially in enclosed areas.
Always replace worn or damaged components with spare parts supplied by Shatal.
USE :
Tools: Water lubricated diamond blade diameter (D) 350mm - bore 25.4mm .
Water lubricated diamond blade diameter (D) 500mm - bore 25.4mm .
(Apply to your usual EURO SHATAL agent for information.)
The use of a saw blade or abrasive blade is prohibited.
Depth of cut (E):
at 90 : 350 = 235 mm
at 90 : 500 = 3855 mm
Length of cut (L): 560mm
Length of cut (L): 550mm
By reversing material.
Technical Specifications

MODEL

BS350 HONDA GASOLINE M31300.C

BS500 HONDA GASOLINE M31300.B

Cat. No.

WEIGHT

Net Weight

Kg.

129

129

CAPACITIES

Fuel tank

Liters

3.6

3.6

Engine oil
SAE 15W/40

Liters

0.6

0.6

ENGINE

Model

Honda GX-160 Recoil start

Honda GX-160 Recoil start

Output

HP

5.5

5.5

Engine speed

rpm

3600

3600

NOISE AND VIBRATIONS

Sound power level according to ISO 5349(*)

Measured sound power level LwA=dB(A)

88

88

Vibration values a=m/s2

The hand - arm vibration values according to ISO 5349

2.4

2.4
The above noise level and vibration values were determined at normal speed of the engine. During operation these values may differ because of the actual operational conditions.
MODELS: BS 350 ; BS 500

POWER LEVEL

PRESSURE LEVEL

VIBRATION LEVEL

LWA (DB)
EN 23744

LPA (DB)
EN 31201

689/392/CEE
et 91/368/CE

CUTTING
113

CUTTING
105

CUTTING 2.3M
2.3 m/s2

NOT CUTTING
93

NOT CUTTING
85

NOT CUTTING
0.8m/s2
Inspection- Description Of The Machine
On receiving the machine, check its condition.
Always keep it perfectly clean.
Always keep alert when working.
Ensure that there is no abnormal vibration.
Dimensions :

Dimensions (mm)

L

1532

W

685

H

1670

Weight (Kg)

129
Operation :
Engine Check Before Starting
Fill fuel tank.
Check oil level in engine crankcase and top up necessary type of oil according to manufacturers instructions.
Operating The Machine :
Fill up the water tank.
The water pump should be covered with water all the times as without it there is no cooling and it will overheat and burn.
Check that the direction of rotation of the blade is in the direction of the arrow on the blade guard. It must rotate clockwise looking from the blade guard side.
Run the engine at idle speed for a few minutes.
Move the throttle to maximum engine speed.
Make sure that the blade is not vibrating by visual inspection.
Fitting Of The Cutting Disc :
The blade locking nut has a left- hand thread.
Check that the blade is assembled correctly. Check that the arrow marked on the blade is in the same direction as the arrow on the blade guard.
Depth Of Cut Adjustment :
Loosen locking handle and lift head so that the required gap is obtained. Re tighten locking handle.
Maintenance Schedule :

he chart below lists basic engine maintenance. Refer to engine manufacturer's Operation Manual for additional formation on engine maintenance.

| | | | | | |
| --- | --- | --- | --- | --- | --- |
| | Daily before starting | After first 20 hrs. | Every 2 weeks or 50 hrs. | Every month or 100 hrs. | Every year or 300 hrs. |
| Check fuel level and fill. | Yes | | | | |
| Check engine oil level and top up. | Yes | | | | |
| Inspect fuel lines. | Yes | | | | |
| Inspect air filter. Replace as needed. | Yes | | | | |
| Check drive belt (see notes). | | Yes | Yes | | |
| Clean air cleaner elements. | | | Yes | | |
| Inspect shock mounts for damage. | | | Yes | | |
| Change engine oil. | | Yes | | Yes | |
| Clean cooling system | | | | Yes | |
| Clean sediment cup / fuel filter. | | | | Yes | Yes |
| Check and clean spark plug (Petrol Engine). | | | | Yes | |
| Check and adjust valve clearance. | | | | | |
NOTES :
Make sure that all bolts are tightened properly. Loose bolts may cause damage to the unit.
Check the V-belt for tightness. The normal slack should be approximately 10 mm. when the belts are forcibly depressed in the middle position between the two sheaves. If there is excess belt play, there could be a decrease in the Impact force or erratic vibration, causing machine damage.
CLEANING SAW
Clean the machine daily.
Drain the water reservoir regularly.
Remove all mud and silt deposits in order to avoid the clogging of the water pump.
Rinse water pump filter daily.
Check daily that the rails are kept clean.
In the event of uneven or sluggish cutting, the blade must be cleaned by pressing a silicat or any other abrasive stone lightly against it while spinning.
Instructions For Lifting Machine
Never walk or stand under a machine being lifted.
Use only the frame lifting hook (1) for lifting the machine.
Use only tested and authorised lifting equipment. Before lifting check that vibration damper and protecting frame are correctly attached and not damaged.
Transporting
To avoid burns or fire hazards,let engine cool before transporting machine or storing indoors.
Turn fuel valve to the off position and keep the engine level to prevent fuel from spilling.
Tie the machine to the vehicle to prevent sliding or tipping over.
Important Advice
The manufacturer declines all responsibility for loss or damage resulting from misuse or any modification or alteration that does not conform to the manufacturers original specifications.
At the workstation, the sound pressure level may exceed 85 db (A). In this case individual protection measures must be taken.
Spare Parts Ordering
When ordering spare parts, please mention machine serial no., part no. and description.
Scrapping
In the event of deterioration and scrapping of the machine, the following items must be disposed of in accordance with the requirements of the legislation in force.
Main Materials:
Engine : Aluminium (AL), Steel (AC), Copper (CU), Polyamide (PA)
Machine : Steel sheet (AC)
The instructions for use and spare parts found in this document are for information only and are not binding. As part of our product quality improvement policy, we reserve the right to make any and all technical modifications without prior notice.
Enter Buying Requirement Details