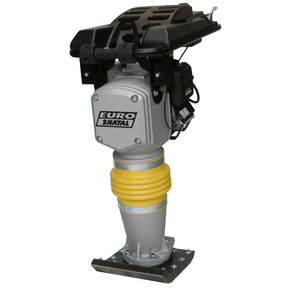 Tampers Price And Quantity
Tampers Trade Information
Product Description
Tampers - TC63
Aided by innovative techniques and modern machinery, we are able to manufacture, supply and export an extensive range of 4.5hp Hatz Diesel Engine. The offered range is extensively used in various vehicles and automobiles. In order to ascertain their optimum quality, these 4.5hp Hatz Diesel Engines are inspected by our team of adept and veteran quality controllers. The offered engine has superior thermal efficiency equated to any other type of engine. Keeping in mind the diverse requirements of the patrons, we offer this product in varied specifications.
Features:
Easy access clutch, for easy maintenance (TC63)
Hand- Arm Vibration: Only 6.7 m/s2 (TC63)
Non-leaking fuel cap
High jump for more compaction
Easy access choke
Fully covered- low noise for operator
Stabilized machine- to prevent "side jumps"
Only 36 cm wide guiding handle
Description :

3.6 HP Honda 4 cycle gasoline engine.
centrifugal force: 14.3 kN
weight: 62 kg
width: 280 mm
We hereby declare that the equipment described below conforms to the relevant fundamental safety and health requirements of the appropriate CE Directives, both in its basic design and construction. This declaration will cease to be valid if any modifications are made to the machine without our expressed approval.
Product: Vibratory Plate Compactors : TC63
The said product has been sound tested per Directive 2000/14/EC

| | | |
| --- | --- | --- |
| Conformity Assessment Procedure | Measured sound power level | Guaranteed sound power level |
| Annex VI | 95 dB(A) | 104 dB(A) |
Relevant CE Machinery Safety Directives : 2006/42/EC, 2004/108/EC, EN500-1, EN500-4, 2000/14/EC
Appropriate internal measures have been taken to ensure that series-production units conform at all times to the requirements of current CE Directives and relevant standards.
The signatories are empowered to represent and act on behalf of the companys management.
Safety Instruction
Laws governing safety aspects on machinery may vary between countries but the following guides will useful to all operators:
Before starting, carefully read the machine maintenance and operating manual and follow all the instructions.
Use unleaded fuel only, for gasoline engines.
Never operate the machine without the belt guard.
Keep hand and feet away from moving parts while the machine is running.
Do not operate the machine in closed places and inflammable environment.
Operating the machine is advisable only with good lighting conditions.
Hearing protection must be worn.
Foot protection must be worn.
Do not touch hot surfaces.
Transport :
Keep the machine horizontal to lessen chance of spoiling oil.
While transporting the machine keep the gas valve closed.
Technical Specification :

MODELS
Cat. No.

TC63 HONDA GASOLINE
N11601

WEIGHT

Net Weight

62

OPERATION DATA

Ramming shoe

32 x 19/23/28

Strokes per minute

450-650

Stroke height

70mm

Impact force

100 kN

Depth action

65 cm

DRIVE MOTOR

Model

Honda GXR120
Recoil start

Output

2.7

Engine speed

3600

Fuel tank - litres

1.4

Engine oil - litres
SAE 15W/40




NOISE

Noise level

94.6 dB Lp
104.6 dB Lw
OPERATION:
ENGINE CHECK BEFORE STARTING
Fill fuel tank H.
Check oil level in engine crankcase and top up necessary type of oil according to manufacturers instructions.
Starting

Open fuel valve ( I ).
Move choke lever to the "CLOSE" position. (When the engine was working just before don't use this)
Close throttle
Turn the engine switch to the "ON" position.
Pull the starter rope to start the engine.
Move choke lever to the "OPEN" position.
When the engine runs open the throttle ( F ) completely.
To warm a "cold" engine run the machine in low throttle ( F ) for a full minute.

While operating

Use the guiding handle ( G ) to operate the machine.
Be sure that the shoe is parallel with the ground.
Do not fight or overpower the machine.

To stop :

Turn the gas throttle ( F ) to "CLOSE".
Turn the engine switch to the "OFF" position.
Close the fuel valve ( I ).
Important Advice :
The manufacturer declines all responsibility for loss or damage resulting from misuse or any modification or alteration that does not conform to the manufacturers original specifications.
At the workstation, the sound pressure level may exceed 85 db (A). In this case individual protection measures must be taken
Spare Parts Ordering :
When ordering spare parts, please mention machine serial no., part no. and description.
Scrapping :
In the event of deterioration and scrapping of the machine, the following items must be disposed of in accordance with the requirements of the legislation in force.
Main Materials :
Engine : Aluminium (AL), Steel (AC), Copper (CU), Polyamide (PA)
Machine : Steel sheet (AC)
The instructions for use and spare parts found in this document are for information only and are not binding. As part of our product quality improvement policy, we reserve the right to make any and all technical modifications without prior notice.
Maintenance and Inspection :

Period

Procedure

Before starting

-Check the fuel level
-Check the ramming system lubrication with sight glass
-Check the engine oil

Periodically

-Check for lose screws, nuts etc
-Clean engine cooling fins

Every 5 Working hours

-Check air filter

Every 25 Working hours

-Check spark plug
-Check shoe hardware

Every 50 Working hours

-Replace air filter
-Change oil ramming system once
Then after every 300 working hours

Every 100 Working hours

-Replace sparkling plug
-Replace engine oil

Every 300 Working hours

-Complete maintenance by your dealer
Troubleshooting-Reasons :

Trouble

Reasons

Engine does not start or stalls.

-Engine switch OFF
-No fuel in tank
-Fuel valve closed
-Cable spark plug disconnected
-Spark plug dirty
-Ignition damaged
-Bad adjustment

Engine does not accelerate, hard to start or runs erratically.

-Air filter is dirty
-Spark plug dirty
-Loose fit between carburettor and adapter

Engine overheats.

-Cooling fins dirty
-Restricted air flow

Engine runs, but rammer does not ram.

-Clutch damaged
-Broken connecting rod or crank gear
-Broken pinion or clutch drum

Engine runs, but rammer erratic

-Clutch surface polluted (Possibly oil or grease )
-Broken or worn springs
-Clutch damaged
Instructions For Ordering
Please State Machine Details in the Following Sequence:
Machine Serial Number
Part Number, Description and Quantity of Parts
Full Delivery Address
Manufacturers Liability and the Use of Genuine Spare Parts
Liability for this machine is accepted only when the machine is defective from the outset. Liability is reduced or nullified in the event that the user fails to comply with the operating and maintenance instructions and uses spare parts which are not guaranteed.
Enter Buying Requirement Details